Are you looking for the perfect place to have a MARVELous meal? Well, on the left-hand side of the Disney Village lake, at Disneyland Paris, you'll find the amazing Hotel New York – The Art of Marvel waiting for you. Just fresh out of the refurbishment it underwent these past two years, the Marvel Hotel (as we like to call it) has two restaurants and two bars that guests and visitors alike can enjoy. In this article, you'll find useful info about the restaurants so you can have a smashing time during your next trip.
This article is part of a Disney friends blog hop. After you finish reading, make sure to hop over to the next post and loop through till you get back here so you can enjoy all the wonderful articles my pals wrote for you.
THE RESTAURANTS
Disney's Hotel New York The Art of Marvel has two delicious meal options that offer a variety of dishes that can meet every Avenger's taste (or villain, I don't judge). Both Downton Restaurant and Manhattan Restaurant are located on the ground floor. All you just need to do is walk into the lobby and follow the signs to the restaurants. No stairs!

These dining locations are extremely popular so make sure you book a table up to two months in advance by either using the Disneyland Paris App, available for iPhone and Android, or calling DLP directly. If you can't get a table, don't panic. You can always head to the Concierge of the hotel to see if they can find a spot for you or, as a last resort, try showing up and asking if there are any last-minute cancelations. Guests have a better shot at getting a table at the restaurants at Concierge because the hotel has some extra spots available for them.
DOWNTOWN RESTAURANT
I can tell you firsthand that the description on the menu of Downtown Restaurant not only sounds incredible, it is incredible.
"Tuck into the famously cosmopolitan tastes of New York in this art-deco restaurant. Be prepared for a mouthwatering culinary tour of Spider-Man's hometown, sampling Asian, Mediterranean and American classics – all lovingly prepared before your eyes. This is like one of those city hotspots decorated with signed photos of celebrities, but here, it's the hotel's largest collection of MARVEL sketches that fills the walls."

Downtow Restaurant
HOW IT WORKS
Downtown is an all-you-can-eat-style table service restaurant with a fixed-price menu of €40 per adult, and €30 per child ages 3 to 11, tax included. In this restaurant, you'll be able to enjoy three different cuisines, Italian, Chinese, and American, that you can mix, match and even repeat to infinity. Keep in mind that drinks are not included in the price. If you have an Infinity, Magic, or Magic Plus Annual Pass, you can get up to 15% discount. You can also celebrate your birthday with an all-new amazing Spider-Man cake €35. Download the menu here.
MY MEAL
I started out with one of the American classics, a Clam Chowder, and decided to go Thano's style with an Italian Deli Meat Platter. My friends had a Smoked Salmon Bagel from the American menu and an Assorted Dim Sum dish from the Chinese menu. They did not disappoint.
Next, I ordered Shrimp with Chilli Sauce and Sauteed Noodles from the Chinese menu and I have to say that they were the absolute BEST noodles I've ever had. I was even tempted to get another one but I knew the desserts were waiting for me. My friend Bart ordered the Pasta of the Day with Bolognese Sauce from the Italian menu, Dani the Beef Burger with Roast Potatoes and Coleslaw from the American menu, and Barbi the Sweet and Sour Pork with Steamed Rice from the Chinese menu. They were all delicious.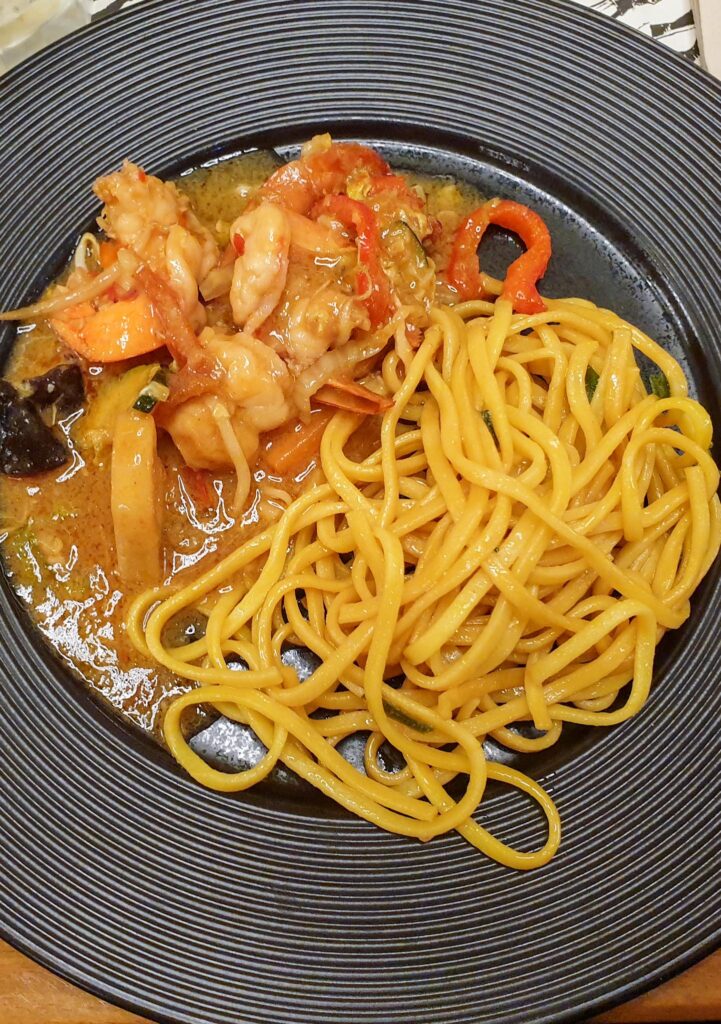 Finally, we decided to order all of the dessert Assortments because we wanted to try them all plus an Exotic Fresh Fruit Platter as if the desserts weren't enough. The Chinese Assortment had a Mango and Passion Dessert (my favorite), a Coconut Cup, an Egg Tart, and Avengers Macaroon. The Italian Assortment included a Captain Marvel Meringue Cream Crunch, a Captain America Panna Cotta (I loved the shield on top), a Lemon Tart, and a Chocolate Cannoli. The American Assortment came with a New York Cheesecake, a Carrot Cake, a Chocolate Babka, and Baby Groot Chocolate Mousse (super adorable).
Downtown is now in my top 5 restaurants to eat at Disneyland Paris and I can't wait to go back and try some of the other dishes.
MANHATTAN RESTAURANT
If you're a fan of fine dining, at Manhattan Restaurant you can feel like a true god by enjoying a banquet under a gorgeous Murano glass Asgard Chandelier. The Italian style menu is so delicious everyone in your party will be shouting another! (Smashing cups not advised).
HOW IT WORKS
Manhattan Restaurant has a great variety of starters, mains, side dishes, and desserts to choose from à la carte. But if you have a Half Board Plus Meal Plan you can use your voucher to order from the Greenwich Village Menu (Starter, Main Course, and Dessert for €42) at no extra cost. Download the menu here. Manhattan Restaurant is open from 6 to 10:30 pm but it also serves breakfast. You can check out the breakfast menu here. If you have an Infinity, Magic, or Magic Plus Annual Pass, you can get up to 15% discount. You can also celebrate your birthday with an all-new amazing Spider-Man cake €35
MY MEAL: BREAKFAST
My friend Barbi and I were lucky to be able to eat at Manhattan Restaurant twice for breakfast and once for dinner to celebrate her birthday and we had a fantastic time. At breakfast, we were greeted with a basket of different kinds of bread rolls and fruit juice. We could order as much as we wanted from the menu so we made Volstagg the Enormous proud.

We ordered a portion of Captain Marvel Waffles, some Pancakes with Maple Syrup, and two plates of Scrambled Eggs, Bacon, and Toast. Needless to say, we overrated how much we could actually eat and couldn't continue the Asgardian tradition. The second morning we ordered a plate of Scrambled Eggs with Bacon and Pancakes and an American Platter that had scrambled eggs, bacon, sausages, and toast. We ended our breakfasts by striking a pose under that stunning chandelier since we were lucky to be seated right under it both times.
DINNER
Manhattan Restaurant was beautifully set for dinner and I loved everything about that fancy table. Fun fact, I only found out the Chrysler Building and Empire State figurines were actually salt and pepper a week later *insert laughs here*. We started our meal with a Parma Ham, Fruit Mustard, and Tigelle dish (which I really liked) and a Burrata from Puglia, Vegetable Caponata, and Carasau Bread.
We then decided to order different main dishes so we could try both so we had a Sea Bass Fillet with Lemon Compote and a Chicken Saltimbocca (Chicken Pieces Wrapped in Ham) with Sage Sauce. The winner of the night, though, was the mouth-watering Zucchini alla Scapece (Fried Zucchini Marinated in a Mixture of Garlic, Vinegar, and Fresh Mint) we got as a side dish.
We ended the night with a Sicilian Cannolo with Buffalo Ricotta, Candied Fruit that came with Chocolate and Pistachio Praline Cream, and a Limoncello Babà with Citrus Whipped Cream, and Exotic Fruit Salad. I liked the Babà better. Manhattan Restaurant is a really great option if you're looking to have a quieter and more refined meal. Whatever you do, don't forget to order the Zucchini. They were that good.
---
Are you a foodie? Why don't you try my Mickey Shaped Alfajor recipe, my Three Milk Dole Whip Pineapple Upside Down Cake, or one of these 4 fantastic Disney Inspired Drinks? Make sure to check out some more of my Disney Parks adventures on my Instagram page @cateatdisney and check out my monthly Disney Content Calendar
How can you eat ten boxes of Pop Tarts and still be this hungry?

Darcy